An opportunity to work with Rajendra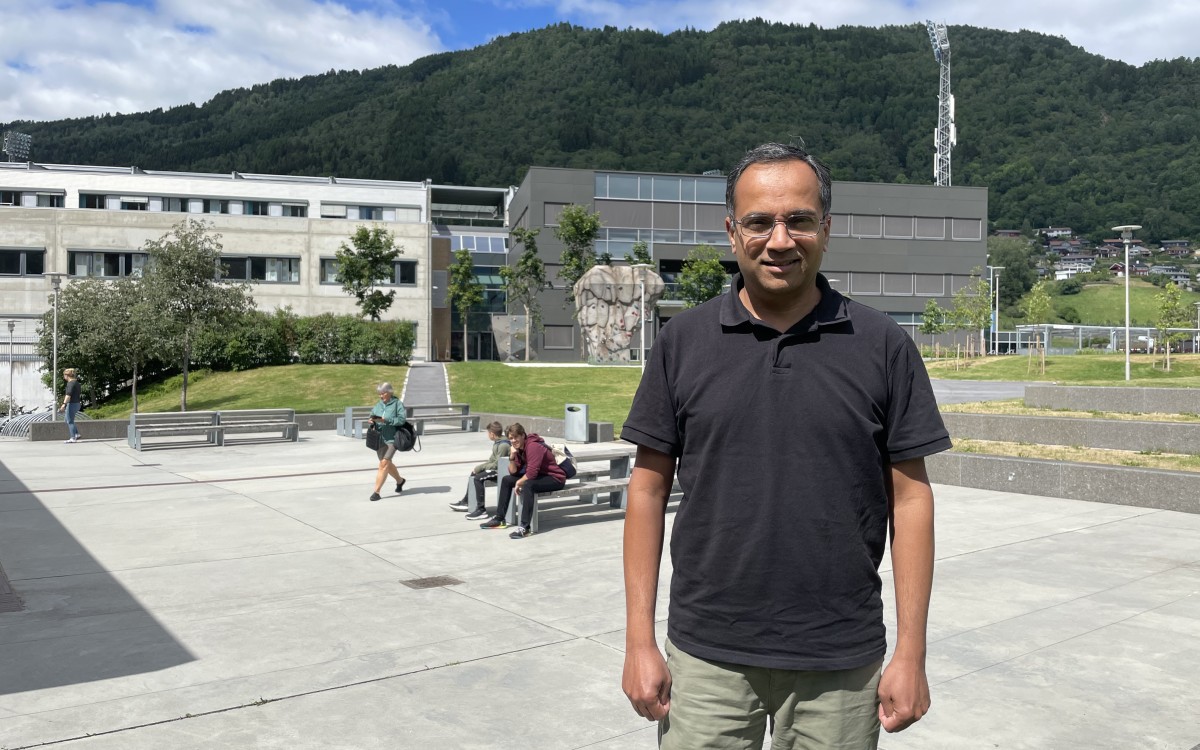 With an international career in research, 16 scientific book titles and a large network stretching across the globe, Rajendra Akerkar is one of Sogndal's academic stars. The Big Data Professor is currently working to recruit young researchers to his field of research, as two positions are open this summer in the field of big data and innovation in regional businesses.
He is one of few Indian nationals in Sogndal, and has lived in Norway for so many years that he is beginning to appreciate activities such as hiking, as his social media profiles. In fact, he was quite enjoying himself at Western Norway Institute's latest gathering in March, which took place outdoors, on a snowy slope next to Sogndal's alpine resort in Rindabotn. Together with a group of colleagues, Rajendra was expected to light a bonfire to the best of his abilities and sit down to discuss the institute's new strategy, before going off to try dog sledding on a frozen lake nearby. Very outdoorsy indeed, especially for the institute's non-Norwegians.
"But you'll never get me to ski", Rajendra remarks, with a smile.
International career
Rajendra started out as a Mathematician, and went on to do a PhD in computer science, which was growing fast in the 1980s.
Just as the divide between East and West was coming apart, Rajendra embarked on his European journey. In 1988-9, he studied at the university in Kaiserslautern and his research later brought him to countries as different as Austria, Canada, Armenia, and Japan. For three years he travelled regularly to Vietnam to teach, as part of a Professorship for the UNESCO and The World Academy of Sciences (TWAS).
All along he has been incredibly productive. So far, Rajendra has published 16 academic books as a sole author, in addition to a number of books co-published with others.
Extensive network
His international background and excellent results have, needless to say, equipped Rajendra with an impressive international network rendering the fact that his physical base is a small fjordside town in Western Norway, quite irrelevant.
Since 2009, Rajendra has focused his energy mainly on big data research, from an office with a grand view of Sogndal's mountainous landscape.
Even though the coronavirus pandemic 2020-21 has affected his lifestyle as well as his work, clearing his calendar of every travel plan, his professional life is more international than ever. Most of his project activity involves researchers and other partners in other countries and on other continents, through various EU funded research projects. In a recently concluded project on big data and emergency managemeng (BDEM), the other scientific partners include three universities in the US, one in Hong Kong, and two in Japan - the University of Tokyo and the National Institute of Informatics.
"The latter is the foremost academic institution in its field in Japan", Rajendra adds.
As for European collaboration, WNRI's big data group recently joined the European network for data, artificial intelligence, and robotics, BDVA-DAIRO in order to enhance collaboration with other researchers who specialise in big data and artificial intelligence.
Crisis managemen
In the aforementioned, newly concluded research project BDEM, as well as in a project called Resiloc, the main idea is to utilise every possible source of big data in order to improve society's ability to handle disasters, accidents, and crises. As an explosion or a bomb goes off, the event will spark an enormous amount of big data traffic on a whole range of arenas, from traffic to mobile technology. Social media and satelite imagery may also serve as sources of useful data. Obviously, not all of these datas can legally be accessed or used for research, and it is necessary to map the available sources in order to maximise the amount of usable data.
"When we use algorithms to extract insights from a data set, we need a certain amount of data", Hoang Long Nguyen explains. He is Rajendra's younger, Vietnamese-born colleague educated in South Korea and recruited from a university there to his first research position abroad.
In orther words, both first responders such as fire brigades, police and NGOs such as the Red Cross, could in theory benefit from the research Rajendra carries out and takes part in - both as the crises unfold, but also in their efforts to evaluate past crises.
"I feel confident that we will be able to handle a future pandemic much better as a result of data collection and analysis", says Rajendra. The same goes for natural disasters. In the project Resiloc, researchers have been collecting data from diaster-prone communities in Greece, Bulgaria, and Italy. Inventories are filling up with data that will become useful for researchers in Norway, Germany, the United Kingdom, Slovenia, and the aforementioned countries as they work to improve their crisis management.
Local authorities will be equipped with more detailed information on weaknesses and resources. This could help the communities in question to bounce back to normal much faster in the wake of earthquakes, floods, and other natural disasters that are becoming ever-more present as adverse effects of climate change afflict various parts of Europe.
Big data in WNRI's home region
For the past three years, WNRI and the big data group lead by Rajendra have been taking part in a large project called Teknoløft, and through this Sogndal-based collaboration, big data research has also begun to strike roots in WNRI's home region. A key aspect of Teknoløft, a 6-year project led by the Western Norway University of Applied Science (HVL), is to challenge enterprises to start collaborating with researchers to innovate.
"Just now, we have a student working to map potential sources of big data in enterprises in Sogn og Fjordane. This will constitute the foundation for our next step, which is development of ways to utilise these data sets to achieve innovation and hopefully, added value for the enterprises in question", Rajendra explains.
WNRI is seeking to employ two future researchers in the field of big data, with a deadline at the end of July 2021: a trainee and a PhD candidate. Even though English is the main language for researchers in this field, good command of written and spoken Norwegian is required in this case, due to the regional collaboration that is intended for these employees.
"The dialogue with businesses in the region requires that these candidates are able to use Norwegian", Rajendra explains. A familiarity with Western Norway as a region is also an advantage.
Two vacant positions in big data research: trainee and PhD candidate