Two vacant positions in big data (researcher/PhD/postdoctoral fellow)
Are you interested in Big Data? Would you like to conduct research on how big data could be used to provide the county of Vestland with new innovations? If so, a research position or a PhD position at the Western Norway Research Institute may be right for you.
Western Norway Research Institute has two vacancies within big data, either as a researcher (without PhD), as a PhD candidate, or as postdoctoral fellow. The researcher will be associated with the R&D project "Research-based technology innovation in Sogn and Fjordane" (Teknoløftet), which is funded by the Research Council of Norway for the period 2018–2023. The research target of the positions is to develop innovative use of big data together in enterprises situated in Vestland County.
Digitalization, automation, robotics, and big data will be among the major focus areas in the business sector the coming years, and a basic understanding of the technology and how it will be used in the best possible way will be decisive for future development. The project has a focus on cooperation with ICT businesses at the forefront in digitalization of production and services, production industries, and the energy industry.
One of the main initiatives in the project is to nurture and develop a stronger knowledge platform on big data which can enable business to make use of existing and new data for further innovation. The research fellow will contribute to data analytics solutions that allow regional companies to gain a competitive business advantage through proactive decision-making leading to innovative initiatives. An important part of the project is aimed at sharing knowledge and utilize cases and competence in close collaboration between R&D activities and the business community.
Applicants must hold a master's degree in statistics, mathematics, computer science, or a related quantitative subject. A good knowledge of machine learning, data mining, or related methods is essential, and a research-oriented master's thesis within one of these (or related) areas will be considered an advantage. Furthermore, candidates must be able to demonstrate competence in at least one modern programming language, e.g. Scala, Python or R.
The candidate must be diligent and display an ability to work independently, supplemented with regular guidance, and is expected to perform high-quality research and publish results at international workshops or conferences, as well as in scientific journals. It is the aim of the project to interact extensively with industrial partners, and the candidate should have excellent collaboration skills. The candidate must be proficient in written and spoken Norwegian and English.
The Western Norway Research Institute participates in regional, national, and international research collaborations. The research institute is in the process of building a research community within Big Data of which the research fellow will become a member.
We offer a professional, interesting, and innovative working environment, friendly colleagues, extensive professional networks, flexible working hours, a corporate sports team, as well as good pension, insurance, and welfare schemes.
Salary in accordance with agreement. The place of work for this position is Sogndal.
Send an application with your CV and list of publications electronically to: post@vestforsk.no. Copies of diplomas and certificates, as well as other documents, may also be sent by mail to: Vestlandsforsking, P.O. Box 163, 6851 Sogndal, Norway.
Application deadline: 15 January 2021. For more information about the positions, please contact us:
Professor Rajendra Akerkar, tel: +47 916 85 607, e-mail: rak@vestforsk.no
Direktør Anders-Johan Almås, tel: +47 957 09 903, e-mail: aja@vestforsk.no
FINN code: 202254199
About Western Norway Research Insitute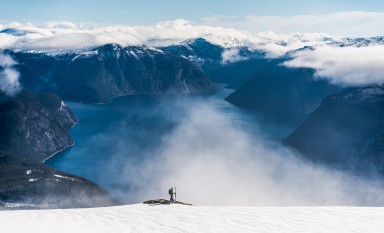 The Western Norway Research Institute is a research organisation that conducts contract R&D as a partner for the private and public sectors. We are about 30 employees with expertise in the fields of society and technology, climate and environment, and tourism. We perform research both at the regional and national levels and have long traditions for international research collaboration. We deliver knowledge that contributes to innovation and sustainable development. The institute is located in Sogndal in the county Vestland at Fosshaugane Campus in an active and innovative environment with both R&D activities, education, and entrepreneurship. Sogndal and the region is known for its fantastic nature which offers excellent opportunities for active outdoor life.