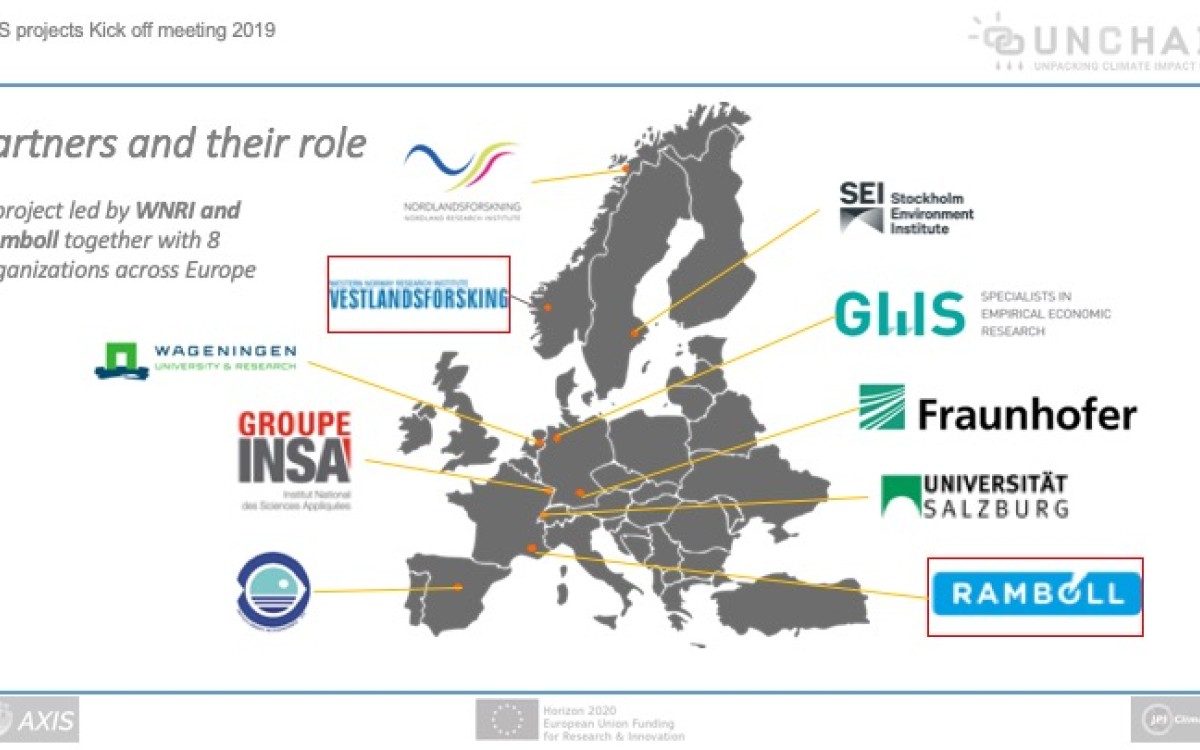 A new method makes it easier to analyze climate risk together with people from the local communities and to find measures that can reduce the risk. Western Norway Research Institute will lead an EU project where local knowledge and residents are also invited to participate in the analysis work.
Researchers, lecturers and consulents from two counties are seating in front of a large map of Rogaland county in Western Norway and thinking so it crackles. Hands go in the air, notes are written, attached to a blackboard and moved around.
It is all about a forest fire on the island of Ombo in Ryfylke region. This is a made up, but not unlikely case of a type of natural event that can have great consequences. The question is: What kind of factors, besides drought, wind and heat, have made Ombo so exposed to fire that a crisis can arise and develop? To understand this, people who know the island must be involved in the discussion.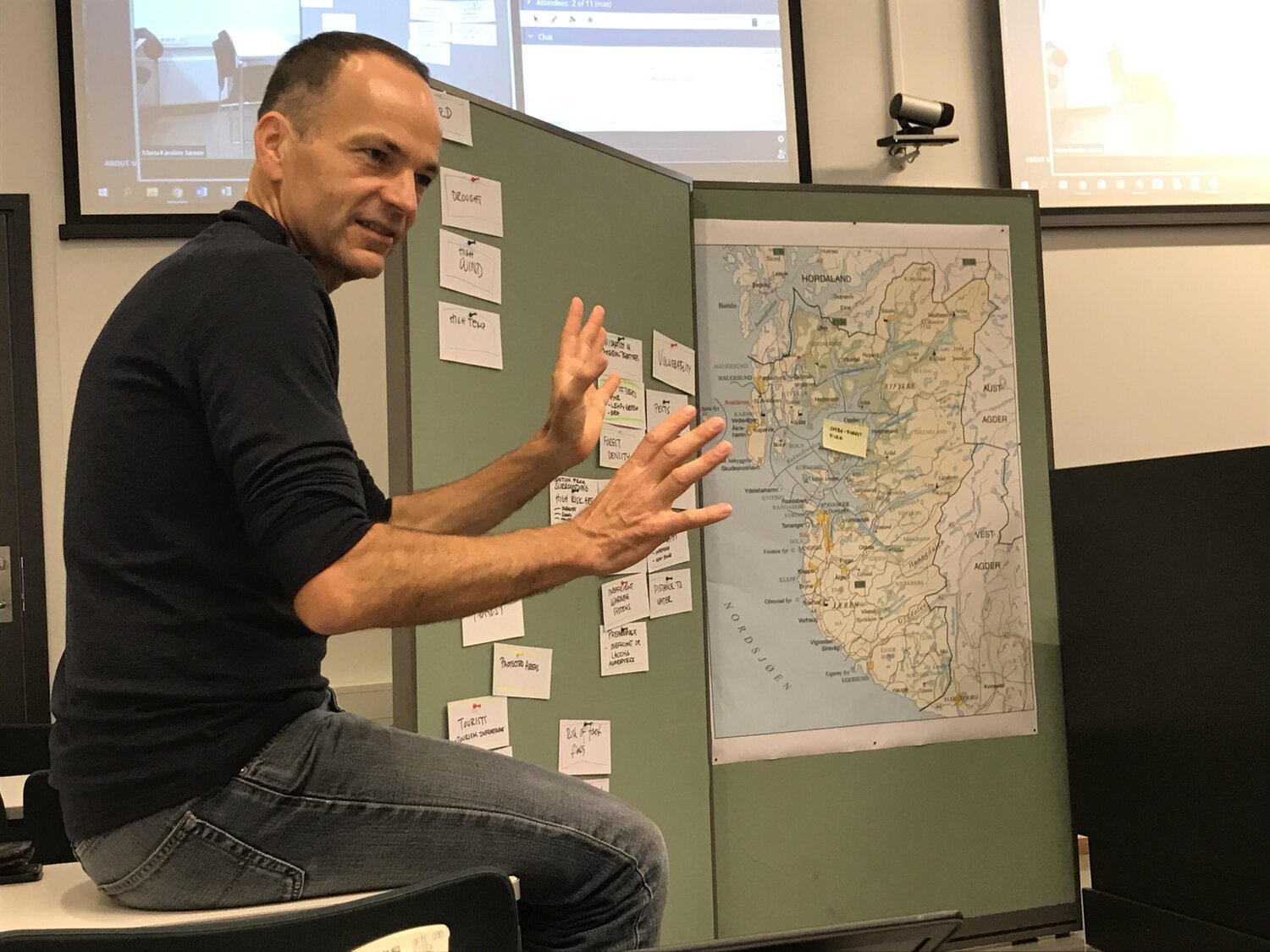 Marc Zebisch from Eurac Research sits in the front of a blackboard where an analysis of the risk of a forest fire in being developed. To the right is a map of Rogaland region with a yellow note showing the location of Ombo island which is in focus during this workshop.
Mapping for adaptation
The answers given by this working group can be used to reduce the risk of a forest fire in a real case. In order to do it, the insights must be written into plans and translated into concrete, preventative measures such as better forest management.
This method shows us that it is not the climate change alone that causes more natural disasters. Societal change also influnece the situation (e.g. regrowth), and behind that there are other changes, like less grazing. The same concers the way people behave in nature, how many live in a certain area or choose to build cottages there. When adapting to a climate with greater natural danger for forest fire, it becomes important to look at all the underlying factors that contribute to undesirable events occurring or extending.
– By putting your finger on these factors, getting started with adaptation measures is easier, says Marc Zebisch of Eurac Research in Bolzano, who was in Sogndal on October 16 to demonstrate the impact chain method in practice.
Local knowledge is important                                                                                                       
In the past, it was common for researchers to analyze climate risk without special involvement from grassroots or representatives of the cities in question. The great thing about the impact chain method is that local knowledge and people from the local community in question are given a more important role in the survey. Because the method is so easy to understand, it is easy for people of different backgrounds to perform analyzes in layers.
Western Norway Research Institute will try out this method through Unchain, an EU-funded project led by Carlo Aall, leader of Noradapt (Norwegian Research Centre on Sustainable Climate Change Adaptation) and a researcher at Western Norway Research Institute. The workshop in Sogndal was a warm-up to the future research.
- We are going to try out the method on 12 selected cases in seven European countries, says Marta Jansen, who participates in the project together with Carlo Aall.
Tourist trips to and from Flåm
Western Norway Research Institute will analyze climate risk associated with the transport of tourists to and from Flåm, a very popular destination in Western Norway. With one million visitors a year, steep mountainsides, narrow fjord arms and tunnels, there is a lot to take into consideration when your imagination is set in motion together with participants knowing the area well.
- By looking at the earlier analyzes of climate risk carried out in Flåm, we may be able to better understand vulnerability in nature-based tourism and find better ways to adapt to climate change locally, says Jansen.
Guidance for municipalities
The county of Rogaland is also going under a magnifying glass, and the county council is therefore involved in this part of the project. The researchers will, together with participants from the county, map climate impacts and vulnerability in Rogaland, and they hope that the county council employees can use the same methodology later when they give advice to municipalities about local risk mapping.
- Rogaland county municipality sees this as a good tool in the analysis of climate risk in large and small municipalities in the county, summarizes Jansen, who was responsible for the connection between the participants from Stavanger and those who met physically in Sogndal.
Used in Asia
The framework with which Eurac Research contributed to the Unchain project is flexible, and opens up to include all kinds of risk-related information in the model. This means that one can also take into consideration the risk and vulnerability that is not quantified in any way. The Eurac institute itself, located in South Tyrol in Italy, has tried out the method in countries such as Bangladesh, Tajikistan and Azerbaijan.
The analysing processes Zebisch talked about during the workshop in Sogndal took almost half a year and culminated in a comprehensive material on risk and possible climate adaptation. The method also works well on a smaller scale, he says.
– Simple and effective!
Those who participated in testing of the method under the guidance of Zebisch were very satisfied both with the introduction and the test. Many emphasized that it took a short time to understand the method, and that it would not take much effort to gain valuable knowledge.
Also researchers who have worked with climate adaptation in Norwegian municipalities for a long time thought that the new approach was rewarding and they will take the experience further into their work.
- The method is good when it comes to involving all kinds of actors in the analysis work. Individuals without much expertise in climate adaptation will be able to contribute effectively in this work, says Jansen.
Participants from Western Norway Research Institute, Sogn og Fjordane county municipality, Rogaland county municipality (via Skype) and Western Norway University of Applied Sciences carried out the analysis of the case "forest fire on the island of Ombo" with the help of simple tools: a blackboard with maps and handwritten notes that were either moved on or written again as new nuances and contexts emerged.