Together towards common goals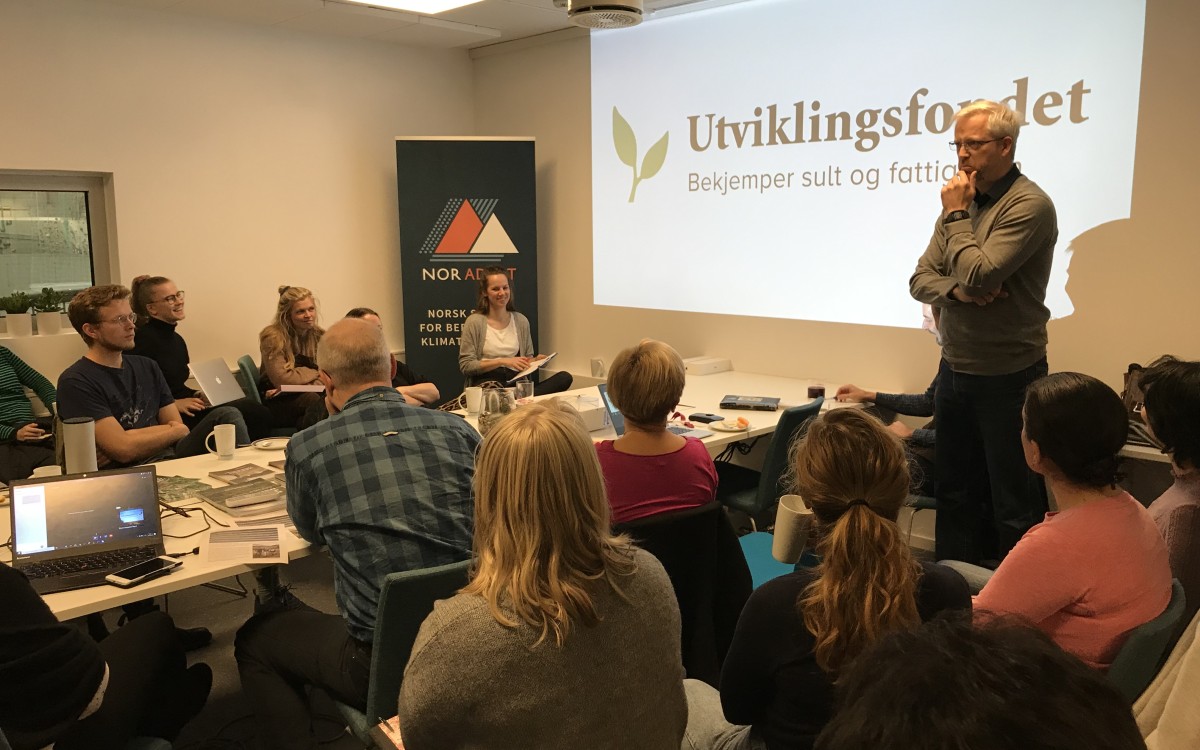 Climate change makes it more difficult to grow food in large parts of the world, forcing farmers to adapt to new weather patterns. This is a common case for the Development Fund and Noradapt, as a recent meeting test with Vestlandsforsking to become better acquainted and consider future cooperation.
The development organization The Development Fund works for small farmers to stand stronger when climate change gives extreme weather and more difficult cultivation conditions. The organization is Norwegian and has programs in five countries; Malawi is one of them. During their visit to Sogndal, they showed the documentary film "Uår" (Differ Media) as recently aired on NRK. In the film we meet the dairy farmer Einar Kiserud. In the summer of 2018, his garden is hard hit by drought after a long period of warm weather and little rainfall. He agrees to join the filmmakers on a trip to Malawi, where he meets farmers of his own age who have taken hold while waiting for the vital rain.
Engaged students
As many in Noradapt teach on the Master's program Climate Change Management at the College of Western Norway, it was natural to invite the students to the meeting and film screening. The thought-provoking film, which, with a simple grasp, brings out vital life and climate to provide food, sets in motion many thoughts and discussions.
The Development Fund's representatives also talked about how they work for small farmers like the one we meet in the film to have strategies to meet the business changes. For example, it can be about training a so-called "model farmer" in new cultivation techniques that provide better protection against drought, and which the farmer can teach to others. It can also be about spreading the risk by growing several types of food.
Jan Thomas Odegard, Daily Lecturer in the Development Fund, met with an obedient and interested gathering of students and researchers from Noradapt and the College of Western Norway.
Central issue in the UN
Storting politicians and former leader of the Center Party, Liv Signe Navarsete, watched the film together with Noradapt, the Development Fund and students. Navarsete emphasized that for a long time we have been aware of this "wholly basic" theme, and responded enthusiastically to questions from the feeder students about topics such as meat-based diet and how far an official plan for climate adaptation in Norwegian agriculture can be found.
Liv Signe Navarsete, as the only politician in the room, received many questions from the master's students about the Norwegian approaches to agriculture and climate.
At one point, Navarsete was optimistic. When she attended the UN Climate Summit in New York in September, she was surprised by how many who addressed the farmers, and especially the small farmers. As the movie "Uår" made clear, many small farmers are just now subjected to repeated crop failure due to difficult weather conditions. And unlike us in Norway, there is no safety net that catches them up when they stand empty-handed and fear swollen. Navarse glow to lift agriculture and climate high on the agenda.
- We sit in the same boat, and we have to do something, she stated.
You can watch the full documentary "Uår" on NRK web-tv.
Watch the documentar movie "Uår" at NRK